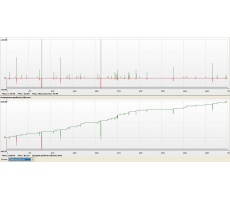 Trigger is using Dealer wins or ties all market.
Minimal bank: 350$.
Minimal bet: 4$.
Loss recouping: Yes
It's recommended by developer not to use trigger 24h every day. 8-10 hour is normal working time.
It's possible to start both Turbo and standart Channels, but it's necessary to increase money ammount for the trigger twice - Up to 700 USD.
Approximate profit per day: Individual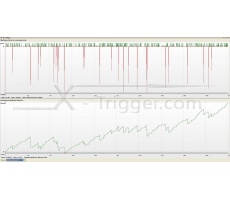 Previous name: Blackjack 5 Cards With Percent From Bank v3.1 Minimal bank: 84 EUR/GPB/USD Recommended minimal bank: 200 EUR/GPB, or 300 USD Minimal bet: 3 % of total bank, but minimum 6 USD/EUR/GBP. It's impossible to change this figure. Approximate profit per day: Individual. Loss recouping: No Trigger's Description: X- Blackjack trigger. It works on market "One or more has 5 cards". Minimal bet is equal 3 % of total bank, but minimum 6 USD/EUR/GBP. It is impossible to change this figure, as it will damage stability of the trigger. In unfavorable conditions, Green up function is making a bet, giving a profit at any situation in the future. The trigger was improved few times. Now it's already version 3.1. Loss recouping is not used. Incomes are not constant. It's very difficult to say exact figure, because it depends on situation on the market and from the bank. You can see an approximate tendency on the screen shoot, what profit can be achieved with the minimum bet 6 euros. There are a lot of variable, developed formulas and calculations in the trigger. After purchase you'll receive 2 triggers on your email address. One trigger is for test money only and the other for real money. Triggers are marked with "test" and "real" words. Besides, that "test" will play only on test, and "real" only on real money, triggers "test" and "real" absolutely identical. Reason of creating 2 triggers is, that the trigger contains a lot of functions, and its program code too big. Because of this it is possible to get some errors in the trigger while processing by program X-Feeder on weak computers. Therefore the trigger was divided on two parts. This should improve stability.